The Gold BUGS Index (HUI) dropped sharply on Monday 11th January, but managed to hold above its 50-day and 20-day moving averages by the barest of margins. It therefore hasn't yet fallen by enough to signal an end to the rebound that began on 17th November.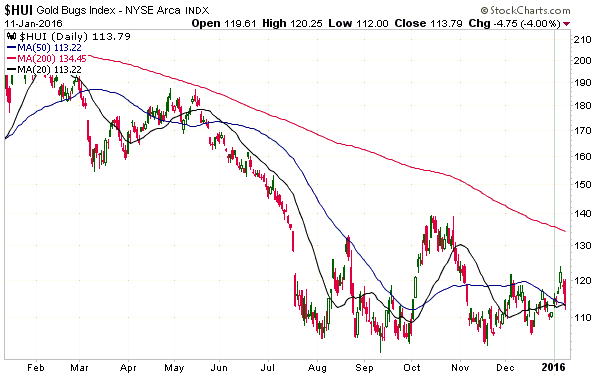 However, while the HUI is hanging on by the skin of its teeth, several high-profile gold-mining stocks have already broken out to the downside. For example:
1. Despite offering excellent value, KGC clearly broke below support on Monday and appears to be heading for a test of its September low.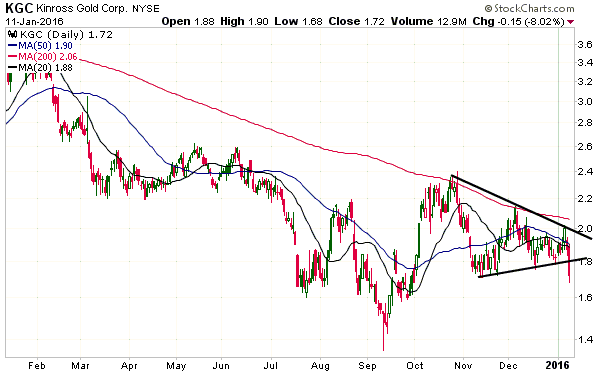 2. B2Gold (BTG) broke out to the downside last Friday and extended its decline on Monday. It does not yet offer great value and the recent downside breakout projects significant additional weakness prior to a sustained bottom, but it sure looks 'oversold'.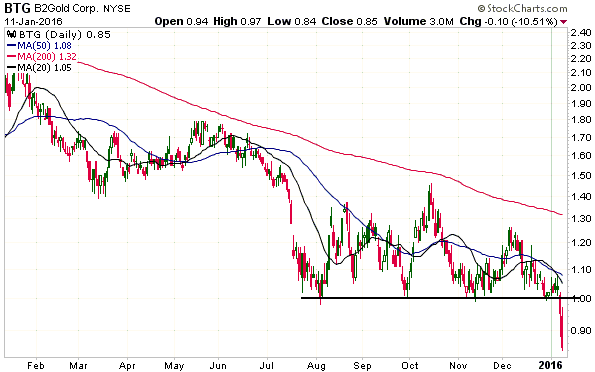 3. Royal Gold (RGLD), one of the world's lowest risk and highest-quality gold stocks, made a new bear-market low on Monday. The price action suggests that the stock is on its way to $30, but the risk/reward is very attractive at $35 or lower.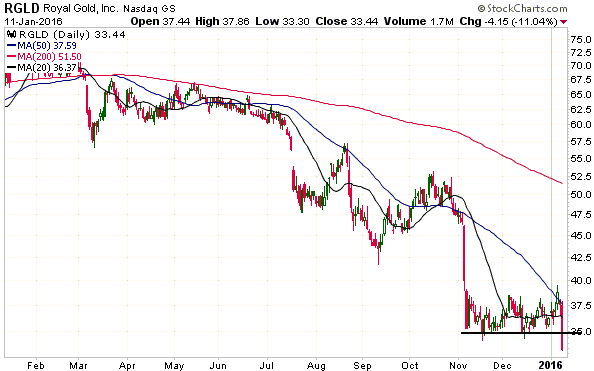 4. Newmont Mining (NEM) plunged below the bottom of a 3-month price channel on Monday and appears to be heading for a test of its September low.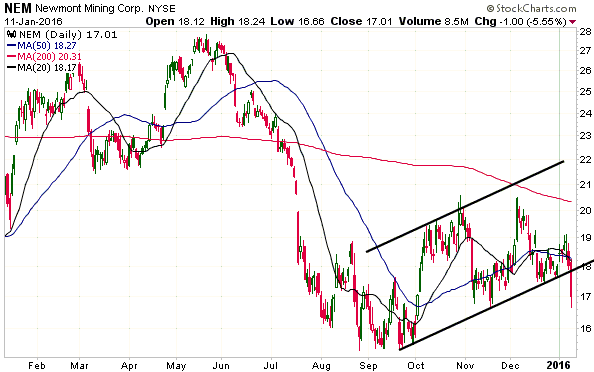 With the US$ gold price having broken above resistance at $1088 last week and having held above its breakout level during the pullback of the past two trading days, why has the gold-mining sector been so weak?
I think it's mainly because of what's happened to non-gold mining stocks. As illustrated below, the Diversified Metals and Mining Index (SPTMN) has fallen by about 20% over the past 5 trading days and plunged to a new bear-market low on Monday 11th January. The gold-mining sector is certainly capable of bucking a general downward trend in mining stocks, but it would take a lot of strength in the gold price to offset the downward pull caused by the sort of general mining collapse seen over the past few days.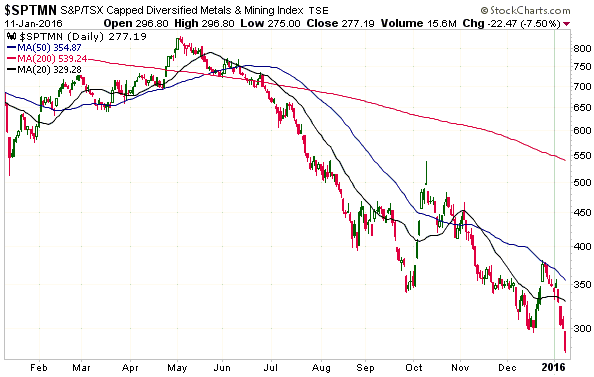 Print This Post