The price action in many financial markets was nothing if not interesting on Thursday 16th June. Of particular interest, there were several price reversals that could be significant (for TSI subscribers, the significance will be discussed in this weekend's commentary).
One reversal of potential consequence happened in the gold market, with the gold price moving well above its early-May high and last year's high ($1308) before turning around and ending the day with a loss.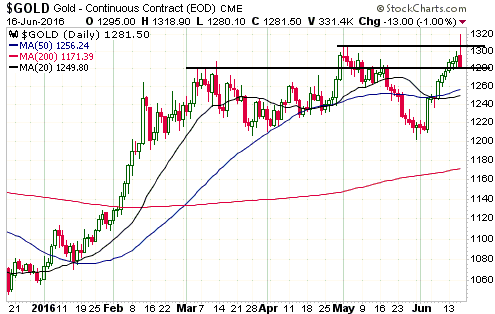 Another reversal happened in the silver market. Silver's reversal looks more important than gold's because it resulted in an "outside down day" and created a bearish divergence between the gold and silver markets (a new high for gold combined with a lower high for silver).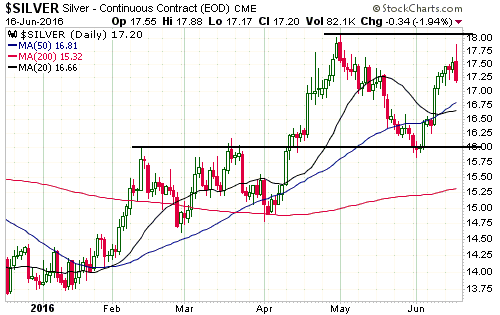 Not surprisingly, the downward reversal in gold coincided with an upward reversal in the US stock market. For example, the Dow Transportation Average, which has led the more-senior US stock indices over the past 18 months, broke below short-term support early on Thursday and then recovered to end the day above support.
In the currency market there were actually two reversals, with the Dollar Index first reversing upward after trading well below the preceding day's low and then reversing downward after trading well above the preceding day's high to end the day roughly unchanged.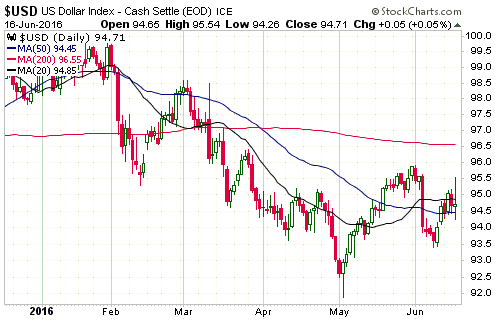 The financial markets are obviously being buffeted by Brexit-related news and are likely to remain more news-dependent than usual for another 1-2 weeks.

Print This Post