This post is a reiteration of the points I made in my 16th December article and includes updated charts. The main point is that there are times, like now, when less 'accommodative' monetary policy is absolutely not bearish for gold.
The Fed announced the beginning of its QE "tapering" on 18th December 2013. The following charts show that within a few days of this announcement gold made a major bottom in non-US$ terms (the gold/UDN ratio is a proxy for gold's performance in terms of a basket of important currencies excluding the US$) and an intermediate-term bottom in US$ terms.
The Fed then methodically "tapered" its QE program during 2014 and announced the completion of the program on 29th October. The following charts also show that within a few days of this announcement gold bottomed in both non-US$ terms and US$ terms.
Over the past two days gold broke out to the upside in non-US$ terms and appears to have completed a long-term base.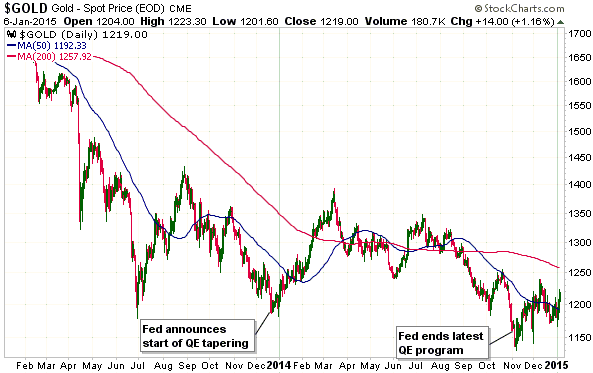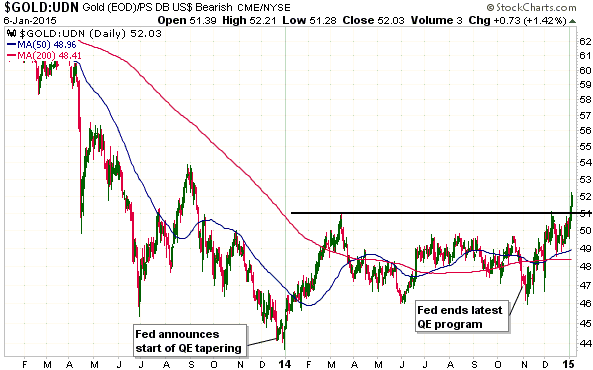 As I explained in the above-linked article, the critical point to understand is that gold's perceived value moves in the opposite direction to confidence in central banking and the economy. During periods when a general belief takes hold that the central bank's money-pumping is improving the economy's prospects, the money-pumping turns out to be an intermediate-term bearish influence on the gold market. However, the money-pumping distorts the economy in a way that eventually leads to substantial economic weakness.
A tightening of monetary conditions will begin to reveal the distortions (mal-investments) caused by the preceding 'monetary accommodation', which is why the demand for gold will sometimes increase as the Fed becomes more restrictive. In such a situation gold isn't gaining ground because the Fed is tightening, it is gaining ground because tighter monetary conditions are shining a light on the economic damage caused by the earlier money-pumping.
In simpler terms, gold gets hurt by the boom and helped by the bust, so anything that perpetuates the boom is bearish for gold and anything that helps bring on the bust that inevitably follows an inflation-fueled boom is bullish for gold.

Print This Post