Despite the huge differences between gold and all other commodities, gold is still a commodity and its US$ price is still affected by the overall trend in commodity prices. In particular, a major decline in commodity prices will naturally put downward pressure on the gold price and a major advance in commodity prices will naturally put upward pressure on the gold price. That's why gold's performance can be most clearly 'seen' by comparing it to the performances of other commodities. When this comparison is done it becomes apparent that gold is now very expensive or at least very highly-priced relative to historical levels.
As evidence I present the following chart of the gold/CRB ratio. This chart shows that relative to the basket of commodities represented by the CRB Index, gold has just made a new multi-decade high.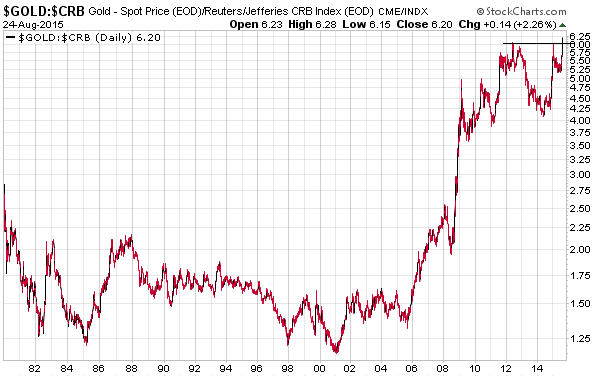 When I look at the above chart I can't help but think it's just as well that gold is being manipulated lower, because just imagine how expensive it would otherwise be.
It won't surprise me if gold moves even higher relative to commodities in general over the coming month in parallel with an on-going flight from risk. Also, I expect the long-term upward trend in the gold/CRB ratio to continue. Lastly, it's clear that the operators of the great gold-market price-suppression scheme have been doing a lousy job and deserve to be fired for poor performance.

Print This Post