In reaction to the ECB cutting off financial support to Greece's banks and the resulting closure of all banks in Greece, the Global X Greece ETF (GREK) plunged 19% on Monday 29th June to a new bear-market low.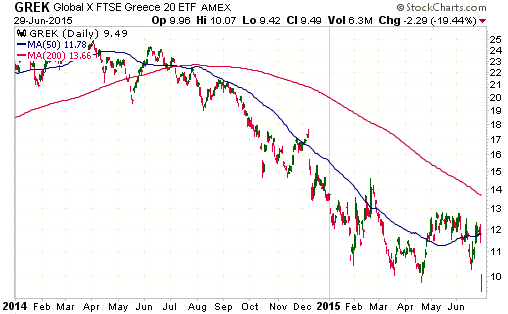 However, apart from the assets most directly affected by the goings-on in Greece there are currently no real signs of fear in the financial markets. For example:
The Dollar Index initially rallied on Monday and broke above short-term resistance at 95.5-96.5. This was a predictable response to the burgeoning crisis in the euro-zone, but the gains were quickly given back and the Dollar Index ended the day with a loss. This price action reflects a general lack of concern.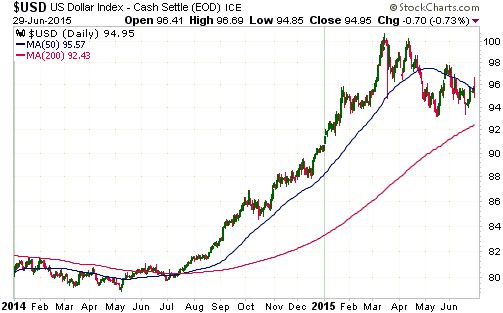 The S&P500 Index (SPX) finally broke below the bottom of its recent narrow trading range, but while this is a preliminary sign of weakness it is far from a sign of panic.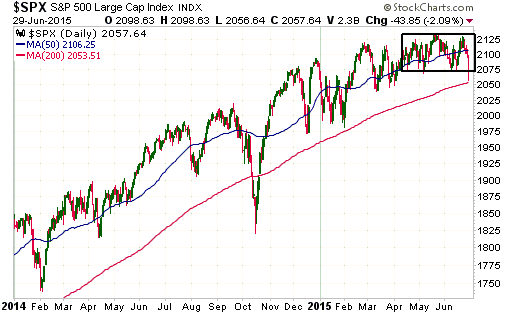 The EURO STOXX 50 Index (STOX5E), the European equivalent of the Dow Industrials Index, fell 4% on Monday. This is a sizable decline for a single day, but it wasn't even enough to push the index to a new multi-week low.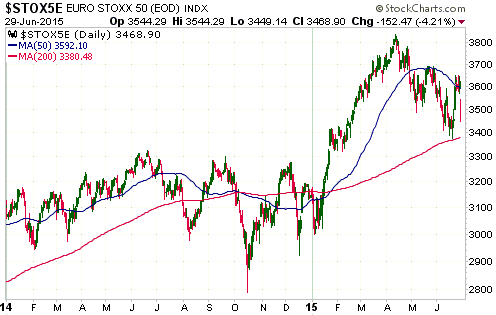 TLT, an ETF proxy for long-dated US Treasuries, bounced on Monday, but the bounce came from a 6-month low and wasn't even sufficient to take the price to the declining 50-day MA.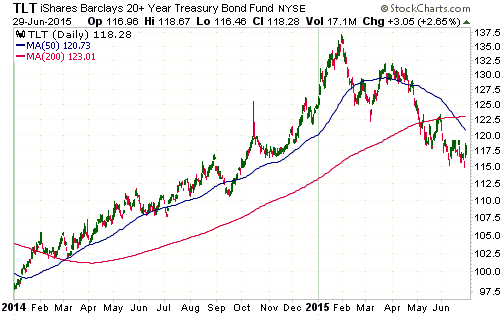 The HYG/IEF ratio, a credit-spread indicator that rises when credit spreads contract and falls when credit spreads widen, has been working its way higher since mid-January. This upward trend implies increasing complacency and/or rising economic concidence. It pulled back on Monday in reaction to the Greek news, but the size of Monday's move was not out of the ordinary.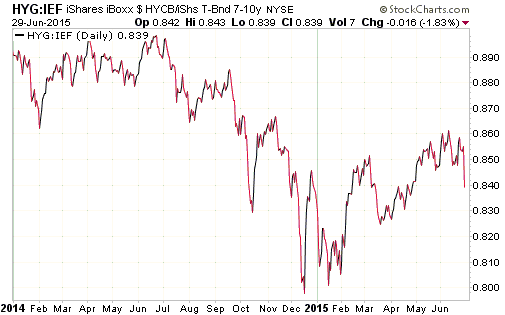 I would have expected a bigger financial-market reaction to the ramping-up of the "Grexit" risk. However, with none of the other major financial markets showing much fear on Monday, I'm not surprised that there was only a small move in the gold price.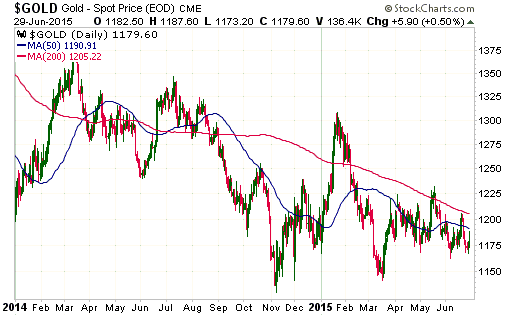 There could be a much bigger reaction over the days ahead as the situation in Greece continues to evolve, but right now the financial world is taking the Greece news in stride. The thinking seems to be: this is a major problem for Greece, but a minor issue elsewhere.

Print This Post