The market action is getting more interesting. Here are three examples:
1) Although the S&P500 Index and most other important US stock indices ended Monday's session with gains, the Dow Transportation Average (TRAN) lost ground and has marginally breached support at 8600. It is now at its lowest level since last October — a significant bearish divergence.
Due to Monday's marginal breach of support, the stage is set for some informative price action over the days ahead. TRAN is going to either follow through to the downside and confirm its breakout or quickly reverse upward and indicate that the downside breakout was false. Each of these possible outcomes contains clues about what the future holds in store.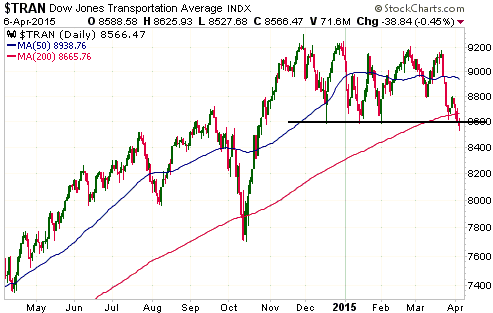 2) Due to the much-worse-than-expected US employment report that was published when the financial markets were closed last Friday, it was very likely that there would be a decent bounce in the gold price when trading resumed on Monday. The gold price quickly rose to the $1220s on Monday and in doing so traded above its late-March spike high, but it subsequently gave back about half of its gains and ended the day at its 50-day MA. This price action is not bullish, but the set-up is still in place for additional near-term gains.
Critical support is at $1178.
3) I continue to think that the Dollar Index made a multi-month top in March, but the market is stubbornly refusing to either validate or invalidate this view. A daily close below 94 would remove all doubt that a multi-month top is in place, while a daily close below support near 96 would be a preliminary signal. Given the recent economic data, the Dollar Index has done remarkably well to remain above 96 until now. Even last Friday's lousy employment report wasn't a sufficient catalyst for a breakdown.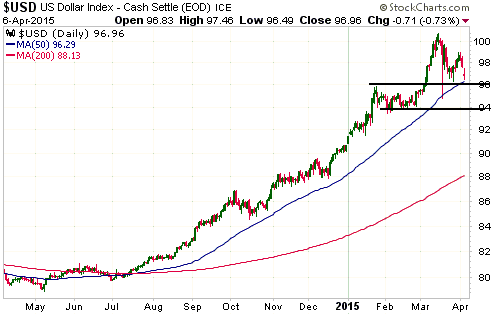 Print This Post