The gold mining sector entered crash mode last Wednesday (29th October). These types of events typically last 5-6 trading days, although they are sometimes a little shorter and sometimes a little longer. Based on the typical length of a multi-day crash the most likely time for a low is therefore this Tuesday (day 5) or Wednesday (day 6).
It is not uncommon for a multi-day crash to be interrupted by one 'up day'. For example, a 6-day crash could entail three down days followed by an up day and then two more down days to complete the decline. Monday's bounce in the gold-mining indices and ETFs is therefore not evidence that the crash is over. However, another advance of at least a few percent on Tuesday 4th November would be evidence that the crash is over.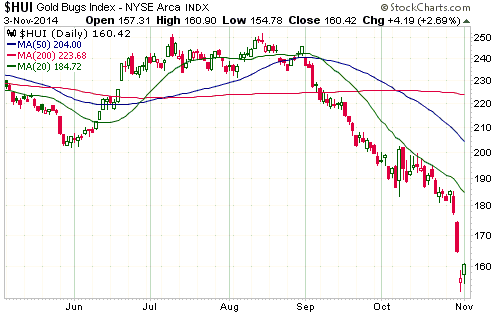 Incredibly, both the Central Fund of Canada (CEF) and the Central Gold Trust (GTU) are now trading at discounts to their net asset values of almost 10%. This means that purchasing CEF near its current price is roughly equivalent to paying $1050/oz for gold and $14.50/oz for silver. The unusually large discounts at which these bullion funds are now trading is an indication that gold and silver are almost as out-of-favour as they ever get.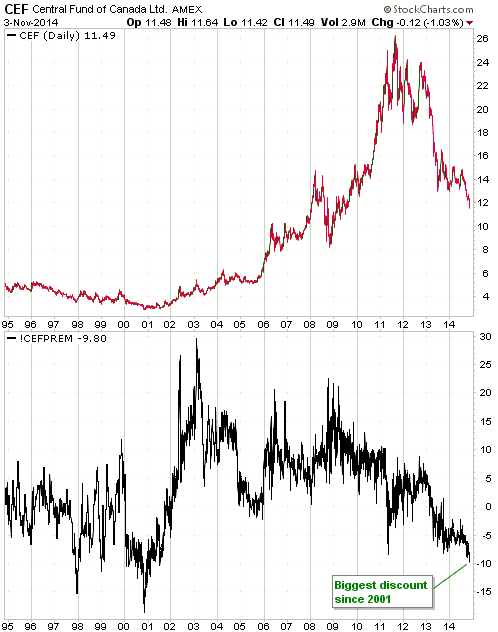 Print This Post